Tuesday, August 26, 2014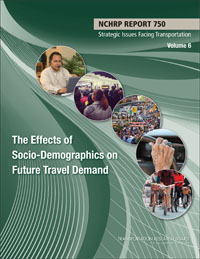 A recent NCHRP report released on 19/08/2014 discusses the effects of socio-demographic changes on future travel demand.
http://www.trb.org/Main/Blurbs/171200.aspx
Wednesday, August 6, 2014
Following our latest visualization on "
Melbourne Bike Crash Map
", I have put together a list of the top 20 streets in Melbourne with highest number of bike crashes between 2008 and 2013.
Note: Data shown below is the number of bicycle crashes only. It is NOT normalized by the length of the road or the bicycle volume.
Friday, August 1, 2014
Link to Melbourne Bike Crash Map:
http://monash.edu/research/city-science/MelbourneBikeCrashMap/
"Cycling is growing in Australia. The number of bike trips to work in the Greater Melbourne area has increased from 12,124 in 1991 to 25,572 in 2011. Despite the growing interest in cycling, bike safety has remained a concern.
In this project, we visualize 5 years' worth of bicycle crashes from 1/7/2008 to 1/7/2013. We used the Strava Global Heatmap as the background layer. Strava is a cycling app which allows users to track all their rides. The Global Strava Heatmap includes more than 200 billion data points from users showing where people (or more precisely Strava app users as an imperfect sample of population) ride. The number of bike crashes alone does not give a complete picture of the safety characteristics of a location. Crash rate is actually a better measure determining the relative safety considering the bicycle traffic volume. Since bicycle traffic volume data is scarcely available, we have used the Strava Heatmap to fill the gap."